Did you get your "BAG OF HOPE" today!!??!!  This bag is going to make it SO easy for you to make a donation!   Just fill it up &  put it out by the mailbox for your mail carrier to pick on SATURDAY, May 14th.  Join me and many other couponers in our quest to donate 10,ooo during this years 
Couponing for Community.
In case you missed the previous post about this below is a little about "Couponing for Community".  Check out the "Saving to Serve" deals
HERE
for some great ideas to fill your bag!!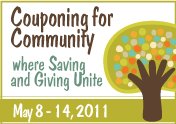 Yippee a BIG Chance for EVERYBODY to give Back!!!
Couponing for Community was such a huge success last year, we are doing it again this year & I am SO excited!!!!  You are cordially invited to join this community of couponers by using your couponing skills to give to a homeless shelter, food pantry, or a friend in need during the week of May 8-14, 2011! This year the goal is 10,000 items donated in one week's time! I think that is number will be exceeded!
This is such a wonderful opportunity to see how much we are able to actually give back while saving tons of money!!  There are so many places looking to receive donation's,  Church Pantries, Schools, Shelters, Animal Shelters, the list goes on & on!  So pick your favorite and start collection donations!!  Don't have a favorite?? No Problem, your Mail Carrier will pick up your nonperishable donation on May 14th!!  How easy is that!
Posts may contain affiliate links or sponsored content. Please see our disclosure policy
HERE
.
{ 0 comments }